EVERYTHING YOU NEED TO KNOW ABOUT FOUNDATION
If you're after flawless skin, foundation can create that blank canvas to work on. You can opt for a minimal and natural base, or something a little more dramatic for the ultimate confidence boost.
The beauty industry is constantly innovating, and a vast variety of formulas, shades, and finishes of foundation is now readily available. Whether you choose a powder, cream, liquid, matte, or satin foundation, it can feel just like a second skin and more lightweight than ever before.
Team your foundation up with a few tools, apply carefully, and you'll have the look of airbrushed skin in no time.
Foundation's purpose is evident in its name: it lays the foundation for flawless makeup application and perfect skin. Makeup base creates a blank canvas so you can paint your very own masterpiece.
Getting your foundation right is crucial. A bad blending job or dodgy colour can ruin your entire look, even if you're rocking the perfect bold lip or smoky eye. Rest assured that we've got all the best tips to make you a foundation pro!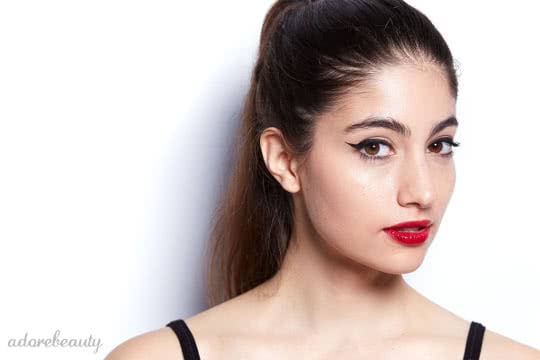 Women have been using face powders for centuries, but it wasn't until the '40s that foundations became accessible. Starting with stage makeup and soon moving to Hollywood movies, formulas were created to ensure flawless skin and suitable colour matches for Technicolor. Makeup artists could no longer get away with using the wrong shade, as was possible in black-and-white movies!
It took some time for foundation to move from a dressing-table addition to a handbag necessity. But by the '60s, there were plenty of portable touch-up foundations on the market.
In the past 20 years, foundation has advanced in leaps and bounds, with powders, liquids, creams, sticks, and compacts all being commonplace in the makeup bag. Foundations now feel more natural and lightweight on the skin than ever before, coming in a huge variety of shades to suit every skin tone.
Choosing your foundation can seem like a minefield, what with so much variety in consistency, formula, finish, and colour. Start by learning the basics and have a read through 'What's the Purpose of Foundation?'. Here, we discuss the benefits of using a foundation, as well as some beginner steps on choosing your coverage, formula, and finish.
If you want more details on formulas, you can read 'All About Stick, Liquid, Cream, and Powder Foundations'. Choosing a foundation formula is about not only your skin type but also your lifestyle. For example, stick and pressed-powder foundations are much better for on-the-go use, whereas liquids and creams last longer. Read about the benefits of each formula to find out which suits you the best.