The Ordinary is one of the hottest skincare companies at the moment, and if you're keen to get on the hype but a little intimidated by their confusing product names then you've come to the right place.
Ditching all forms of traditional marketing, their skincare goodies have the most scientific names possible, so it can be overwhelming to even know where to start. Luckily, we've broken down their entire product range so you can easily build a routine for you, no matter what your skincare concern is.
The first signs of aging
The Ordinary have an extensive range of anti-aging products, and we say it's never too early to start with an anti-aging skincare routine!
Dehydrated skin will not only highlight the appearance of fine lines and wrinkles, but will also speed up the aging process, so keep your skin looking youthful with the Hyaluronic Acid 2% + B5. There are many benefits to using hyaluronic acid but it's mostly known for it's water-retaining properties. Hyaluronic acid will keep your skin looking plump and firm, whilst encouraging collagen production.
Vitamin C is another key ingredient when it comes to collagen production so should be incorporated into your routine. The Ordinary have several vitamin-c rich products, but if you're only at the early stages of aging, we recommend you use a lightweight formula such as the Ascorbyl Glucoside Solution 12%. This will not only reduce early signs of aging and keep skin hydrated but will brighten your skin tone.
A mild exfoliator such as the Lactic Acid 5% + HA 2% will also minimise fine lines by stimulating cell regeneration and targeting age spots. This serum also contains additional hyaluronic acid to lock in any moisture lost during exfoliation.
Retinol is one of the best anti-aging ingredients out there, and we suggest using a retinol once a day, three times a week if you want to maintain a youthful complexion. The Retinoid 2% is recommended for beginners.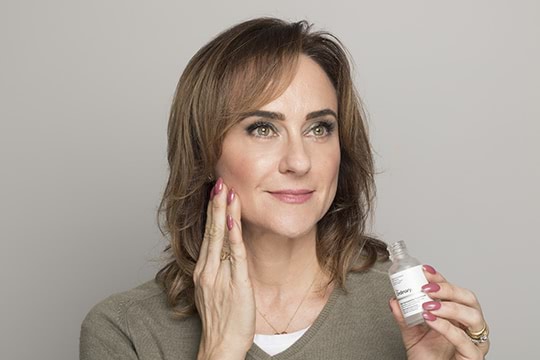 Products for mature skin
If you're further along the aging process, you may expect to pay a small fortune on gold-plated anti-aging skincare products. Thankfully, The Ordinary have plenty to offer in terms of both effective, and affordable skincare.
The peptide serum Buffet targets multiple signs of aging such as wrinkles, uneven skin texture and dehydrated skin for a more youthful complexion. It contains a specifically designed peptide, Matrixyl 3000, which stimulates collagen production and repairs skin. This peptide can also be found in the Matrixyl 10% + HA which contains the peptide in high concentrations for maximum benefits.
Alternatively, opt for the infamous anti-aging ingredient Retinol. The Advanced Retinoid 2% contains a high concentration of both pure retinol and a fast acting retinol derivative to reduce the appearance of fine lines, wrinkles, pigmentation and to firm loose skin.
Vitamin C is crucial in any anti-aging skincare routine, no matter how long along the process you are. The Ascorbyl Tetraisopalmitate Solution 20% In Vitamin F is an oil-based solution which contains a stable vitamin c derivative to brighten skin and reduce signs of aging. The oil based formulation is perfect for those with dry and mature skin.
If you don't have issues with dry skin, choose the Vitamin C Suspension 23% + HA Spheres 2% which has high concentrations of pure vitamin C.

Dry and dehydrated skin types
The Ordinary have products suitable for both dry and dehydrated skin, which can either rebalance oil levels or rehydrate the skin.
If you have naturally dry skin, your skin doesn't have a hydrolipid film which is there to retain moisture in the skin. Water-based products will be ineffective, so you will want to stick to oils to ensure your skin is nourished. The 100% Organic Cold-Pressed Moroccan Argan Oil is perfect for the job as it contains a blend of moisture rich fatty acids, vitamins and antioxidants to help nourish and protect the skin.
If your skin is dehydrated, this means you don't have enough water in your skin which can cause premature aging. Your skin is also more sensitive to outside elements such as UV rays and pollution, so you will want to rehydrate it for a healthier complexion. Hyaluronic acid has incredible water retaining properties so the Hyaluronic Acid 2% + B5 will be a worthy new step in your routine.
You may also want to try the Natural Moisturizing Factors + HA which contains a powerful blend of amino acids, fatty acids, hyaluronic acid and other natural ingredients found in your skin to repair and rehydrate your complexion. This lightweight moisturiser offers immediate results without a greasy finish.
Best exfoliation products
There are many benefits to exfoliating your skin, including re-texturising uneven skin, counterbalancing pigmentation, and brightening dull looking complexions. Exfoliation can also help blemish-prone skin and those with dry patches. However, manual exfoliation is a thing of the past for The Ordinary as instead they offer several chemical exfoliants to do the job in a more gentle way.
The Glycolic Acid 7% Toning Solution is an alpha hydroxyl acid which exfoliates the skin for a brighter and smoother look and feel. With regular use glycolic acid is also known to reduce the appearance of fine lines. This toning solution contains additional plant extracts and aloe vera to reduce irritation and redness caused by using acids.
If you'd prefer a milder AHA, consider lactic acid. The Ordinary have two different strengths, the Lactic Acid 5% + HA 2% and the Lactic Acid 10% + HA 2%, and both work to re-texturise skin and minimise pigmentation. The weaker lactic acid is a perfect choice if you have sensitive skin.
Alternatively, retinol makes for a great exfoliant as it delivers dramatic results. Retinol is known for its anti-aging properties as it reduces the appearance of fine lines and pigmentation spots, however it is strong especially for sensitive skin. If you are using a retinol simply for exfoliation purposes we recommend the Retinol 1%.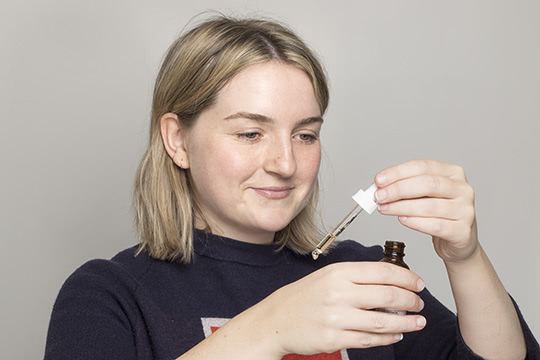 Products for sensitive, blemish-prone and oily skin
Some of the products from The Ordinary can be much too strong for sensitive skin due to their high concentrations of active ingredients. However, if you suffer from blemishes or redness, the Niacinamide 10% and Zinc 1% is an effective and mild solution.
Niacinamide, also known as vitamin B3, improves skin texture and smoothness, whilst calming breakouts and reducing any excess oil build up. Zinc is an anti-inflammatory which will help soothe skin and neutralise redness. Discover more about the Niacinamide Serum in our 'What You Need To Know' guide.
Products for brightening dull skin
Vitamin C is one of the best ingredients for brightening skin and minimising any discolouration. The Ordinary have four products which are rich in vitamin C so you can enjoy the benefits no matter your skin type. Discover which vitamin C product is best for you by reading our 'What are the differences between The Ordinary's Vitamin C Products?' guide.
Vitamin C products from The Ordinary:
Dark under eye circles and puffiness
Whilst The Ordinary focus predominately on skincare products for the face, they do offer an eye serum which can help reduce the appearance of dark under eye circles and puffiness. The Caffeine Solution 5% + EGCG has an extremely high concentration of caffeine, green tea leaves antioxidants and anti-inflammatories which are proven to brighten the under eye area for a wide awake look.
Best all rounder
If you're tempted to dip your toes into the world of The Ordinary but still aren't sure about what is best for your skin then choose the 100% Organic Cold-Pressed Rose Hip Seed Oil. Suitable for all skin types, this oil is rich in vitamins, antioxidants and essential fatty acids which help to brighten, hydrate, calm and repair skin for an overall healthy complexion. You really can't go wrong with this oil as it contains nothing but goodness!
Choosing products from The Ordinary is a bit of a minefield, and it's hard to know what will and won't work for your skin. However, once you've found the products which compliment your skin, we have no doubts that you will absolutely fall in love with this innovative and affordable brand. Pure active ingredients which deliver seriously good results.
You can shop all of these products from The Ordinary at Adore Beauty.