If your promo code isn't applying correctly to your order, please check the following:
Promo Code Box
Please ensure your code is entered into the correct box. (Which is our promotion code box located on the right-hand side at the shopping cart overview.)
Circled below in red: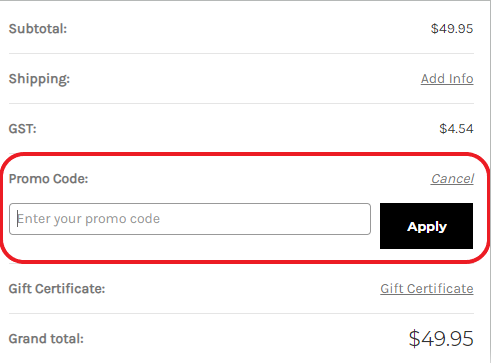 Minimum Order Value
Most of our discount codes have a minimum required spend. Please check the conditions of your promotion code to see if a minimum spend is required for the discount code to apply.


Promotion Code Entry
Has the promotion code been entered exactly as it was shown, with no spaces? If you aren't sure, try copy and pasting the code directly from the email/website.
Code Usage
Most of our promo codes are set up to only be used a maximum of one-time, so if you've used this same code on another order, you won't be able to apply it again.
Applicable Products
Some promotion codes are brand or product-specific - please check the conditions of your code to ensure that the code you're applying is valid with the products you're purchasing.
Excluded Brands
Due to contractual agreements with our suppliers, some of our brands are excluded from discount promotions. You can view the list of excluded brands here
Code Validity
Some of our codes have an expiry date (which may be a set date, or a certain amount of days since you received your email with the code). Please check the conditions of the code to make sure it is still valid.


Gift Sold Out
If you're applying a code to receive a Gift with Purchase, it may be sold out. Please check our promotions page for an up-to-date list of all of our Gift with Purchases that are currently available.


If none of the above apply, then you should force your computer to reload the page (as there may be old data causing an error).
You can easily force your computer to reload the screen as follows:
Windows Based PC Users:
Press the "CTRL" and "F5" keys in unison. The page should now reload.
Apple MAC Users:
Press the "CMD"+"SHIFT"+"R" keys in unison, and the page should now reload.


If you are still having trouble applying your code after checking the terms and conditions and reloading the page, please email service@adorebeauty.com.au or call our customer service team on (03) 9344 1671, or send us an SMS on +61 436 436 276 as soon as possible after placing your order. Please provide which code you were trying to apply, and what your order number is. Our customer service team will do their best to apply this code to your order.